TM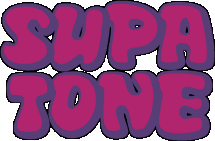 TM

New version 2, featuring:
More low-gain settings on the Sustain knob, making it easier to dial in a growly tone

Mids switch has been changed to a "Guitar/Bass" switch. Guitar mode (left) is a classic scooped sound like the original circa 1974 fuzz, and Bass mode (right) preserves ALL of the brutal bass throughout the tone knob's sweep. In V1, this switch merely toggled between scooped and flat; V2 is very different!
Skreddy Pedals™ Supa Tone: based on a 1974 edition of a fuzz released by Colorsound™, this circuit is not based on a germanium Tone Bender design but is a variant of the Big Muff™ circuit.
*Note: we have no affiliation with Colorsound or Electro-Harmonix or Marshall, who of course own their trademarked names.
News • About Us • Cephalopod • Hybrid Fuzz Driver • Little Miss Sunshine • Swirl • Lunar Module • P19 • BC109 • Echo • BC239 • Mayonaise MkIII • Old Favorites • Dealers • Tee Shirts

Please read our
Terms and Conditions

$214.00 + shipping

deposit: $107.00
We'll invoice you for the balance
including the shipping cost
upon completion

California customers
will have tax added at
check-out.

Allow about 2 to 4 weeks for us to get through our list and make your pedal. If I don't answer an email, please re-send it in case I missed it. We are busier now than ever.

when used for bass:

| | |
| --- | --- |
| | Grindy, tubey distortion that stays in the pocket |
| | You get a fuzzed attack but it's still punchy and retains the normal decay envelope |
| | (V2:) All the low end is preserved in Bass mode, so the tone knob becomes a treble knob and does not thin out the tone even at full clockwise. |

when used for guitar:

| | |
| --- | --- |
| | Rough, unrefined, grinding, low-gain fuzz |
| | More raw & dynamic, less compressed and sustainy than a Big Muff* |
| | Low sustain-knob setting makes a nice cranked JCM900* emulation |


US orders will be sent via USPS Priority Mail (signature may be required)

International orders will be sent Global Priority (where available).

We will not declare your package at a lower value for customs; be prepared to pay your country's import duty when you receive the package.