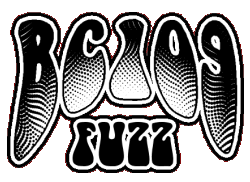 Ripping High Gain Oldschool Fuzz
Adjustable but not too modernized—a vintage-style 2-transistor fuzz with extra controls and tweaks to let you recreate oodles of classic fuzz sounds with minimum hassle
The Skreddy Pedals™ BC109 FUZZ is made from silicon transistors for power and temperature stability, but it's darkened so you can get germanium-ish effects out of it too.
The 2 transistors are piggybacked for better tone (smoother, lower noise than single transistors), giving this circuit 4 transistors total.
The extra controls let you emulate different classic fuzz tones from the 60's and early 70's along with improvements for some of the issues those early fuzzes had (noise reduction, adjustable tone, and input impedance selector switch). Can get frazzly or smooth, bright or dark.
* The names "Tone Bender" and "Fuzz Face" belong to their respective owners and are only used here as comparisons; Skreddy Pedals is not affiliated with these products or trademarks.

About the name BC109 FUZZ:
It refers to the part number of the transistors used and is certainly not a unique moniker. In fact it's so generic it cannot be used as a trademark; that would be like claiming to own the terms "V8" or "327" as the name of an automobile model. There are other products already out there using "BC109" as their name or part of their name (I know of at least 3 others, not to mention several other products named "BC108"). If you want to use the transistor part designation of your fuzz as its name too, nobody's gonna stop ya. Or you could think up a unique name. Either way is fine with me.
Please read our
Terms and Conditions


$195.00 + shipping


deposit: $97.50
We'll invoice you for the balance
including the shipping cost
upon completion

California customers
will have tax added at
check-out.


Allow about 2 months for us to get through our list and make your pedal. If I don't answer an email, please re-send it in case I missed it. We are busier now than ever.




Classic Fuzz Tones

| | |
| --- | --- |
| | From thin and buzzy to clear and cutting to rich and thick and syrupy |
| | Selectable input resistance lets it work great with humbuckers and get along with other effects too |
| | Stable at all temperatures but very sensitive to guitar volume knob changes |
| | Just leave the fuzz knob cranked or backed down a touch |
| | True bypass, LED, standard 9v power jack |


US orders will be sent via USPS Priority Mail (signature required).

International orders will be sent USPS Global Priority (where available).

We will not declare your package at a lower value for customs; be prepared to pay your country's import duty when you receive the package.

Skreddy BC109 FUZZ settings suggestions

Notes:

To get lower-gain, overdrivey sounds (like some germanium-equipped fuzzes), just set the impedance selector to "HB".

Volume stays at unity gain, around noon, more or less, depending on the bias setting, which will interact with and require adjustments to the volume.

Fuzz stays either at max or backed down just a hair. Your guitar volume will go from all-out fuzz at 10 to distortion at 9, heavy overdrive at 8, and all the way clean down at 3 or so.

These settings were worked out using a Stratocaster guitar.

Clock settings: 5:00 = max, 7:00 = min

*Sounds kinda like…
BIAS
VOICE
HB/SC
Eric Johnson (to emulate how he rolls off guitar tone for smoothness)
10:00
9:00
SC
Jimi Hendrix germanium era
9:00
2:00
HB
David Gilmour "Pompei" era
9:00
MAX
SC
Jimmy Page/Yardbirds (TB Mk1.5 era) (use neck pickup, preferably)
MIN
7:30
SC
*These names are just used for comparison purposes; no artists have endorsed this product. Obviously your mileage may vary.